How to use Spot Healing Brush?
Ans:  With this brush we can remove unwanted   spot on our image.It can also be use to remove any face mark on the image.When we use this image it calculate the surrounding pixel color and automatically fix any spot present in that area.Just Select Spot Healing brush from the toolbar and Click Left Mouse button to fix any small spot.As it is a brush tool we can change the size by using square bracket open [ and square bracket close ]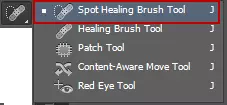 How to use Healing Brush ?
Ans  Healing Brush works like Clone Stamp Tool. With this tool we can replace one pixel with another.Hold Alt and left click to copy an part of the image or to copy any pixel,after you copy any pixel then just paste that pixel into that spot by clicking Left Mouse button.When you hold Alt button, the brush sign changes to crosshair.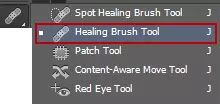 Share and Enjoy
The following two tabs change content below.
Content Writer and Designer
A student of MAAC Andheri and a hardcore gamer, I divvy my time between gaming and blogging. Only content writer at Animation Tutorial.in to cover game engines.
Latest posts by Tridip Rajkhowa (see all)